If you're in need of a good book this October, look no further. In honour of Black History Month, Team CRASH have put together a selection of key reads, recommended by our very own EDI team.
Forget the dry history books you read at school – these won't have you drowning in dates and boring facts. Instead, we've curated a list of interesting, accessible and practical reads – crucially all written from a British perspective – that will engage you and (hopefully) give you something to think about, too. Our list contains both fiction and non-fiction, short reads and long, so you're bound to find something to suit you.
Why I'm No Longer Taking to White People About Race by Reni Eddo-Lodge
Non-Fiction
This is the book that shot to the top of the bestseller list last year summer, and for good reason.  Why I'm No Longer Talking to White People About Race is essential reading for any Brit looking to better understand the black experience here at home. If you think racism is a bigger problem in the USA, this book will make you think again.
Girl, Woman, Other by Bernadine Evaristo
Fiction
Evaristo's smash hit book follows 12 characters throughout Britain and the last 100 years. It's billed as 'this is Britain as you've never read it. This is Britain as it has never been told.' Girl, Woman, Other was the joint winner of the 2019 Booker Prize and shortlisted for the 2019 Gordon Burn Prize. It was also one of Barack Obama's 19 favourite Books of 2019.
Natives by Akala
Non-fiction
This relatively recent book by rapper, activist and author Akala is a super accessible yet intimate portrait of black life in Britain, taken from the author's life experiences. As Akala widens the scope to provide the important, historical, political and cultural landscape, his stories add relatability and emotional context. In particular, the analysis of the intersection of race and class is an eye-opening and uniquely British angle to consider.
The Lonely Londoners by Sam Selvon
Fiction
Truly a modern classic, The Lonely Londoners is the story of a group of Caribbean immigrants in post-World War II London, and one of the first books to focus on the lives of poor, working-class black people in the UK. Trinidadian author Selvon brings the everyday experiences of Windrush Generation to life in this short, beautifully written book.
The Windrush Betrayal: Exposing the Hostile Environment
Non-Fiction
A hard-hitting and often heartbreaking book from 2019's journalist of the year, Amelia Gentleman, The Windrush Betrayal explores possibly the greatest racial injustice to happen on British soil in living memory. The importance of this book – and the realities it forces us to face about our government, our society – cannot be overstated.
The Private Joys of Nnenna Maloney
Fiction
Set in Manchester, this is the story of Nnenna Maloney through her journey of trying to connect with Igbo-Nigerian culture as she reaches adulthood. The Private Joys of Nnenna Maloney was shortlisted for the Desmond Elliott Prize in 2020. Candice Carty-Williams said that Nzelu's novel 'effortlessly capture[s] the tricky nuance of life, love, race, sexuality and familial relationships'.
The Good Immigrant edited by Nikesh Shukla
Non-Fiction
The quintessential post-Brexit book, The Good Immigrant is a diverse collection of stories, anecdotes and essays from twenty-one minority voices in the UK. Bringing together pieces from some of the most talented black British writers and speakers, this is a great, digestible book for those who like to read in short bursts. Why not read a chapter or two on your lunchbreak?
East of Acre Lane by Alex Wheatle
Fiction
Alex Wheatle's East of Acre Lane is set in 1981, the year of the Brixton riots and focusses on Biscuit, a small-time hustler who wants to get out. The riots forced him to make tough decisions about his life, so significant that they could change him forever. Author Alex Wheatle, who was imprisoned following his own participation in the riots, writes about life in Brixton from a place of true authenticity.
Brit(ish) by Afua Hirsch
Non-Fiction
Guardian columnist Afua Hirsch addresses Britain's national identity crisis in a poignant and considered way, bringing in personal experiences and considerations into account. This is a book of social analysis which Brits of every cultural background will benefit from reading. Brit(ish) is a personal memoir about a woman who considers herself British while pondering on what, exactly, that means, and what that means for her heritage.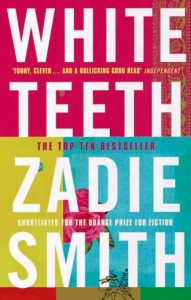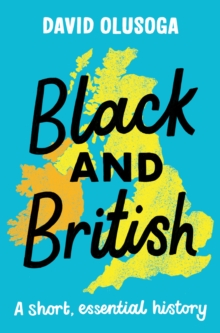 White Teeth by Zadie Smith
Fiction
Zadie Smith is one of our most-loved British writers and White Teeth is a classic, so much so that it was made into a four-part series on Channel 4. The novel is based around the friendship of WWII veterans Archie Jones (who marries a Jamaican woman half his age) and Samad Iqbal, offering a poignant exploration of race relations in the UK.
White Teeth won the Whitbread First Novel Award, the Guardian First Book Award, the James Tait Black Memorial Prize for Fiction, and the Commonwealth Writers' First Book Prize. It was also included in TIME 100 Best English-language Novels list from 1923 to 2005. As The Times said, 'do believe the hype'.
Black and British: A short, essential history by David Olusoga
Non-Fiction
Perhaps the most necessary book for combatting the British education system, Black and British is a  retelling of the relationship between Britain and the people of Africa and the Caribbean. A richly detailed history book that recounts and explores the British Empire's role in the African slave trade and Britain's relationship to African and Caribbean people.
It traces Black British history from the pre-Elizabethan Middle Ages, through the colonialist days of the British Empire, to the state of Britain in the 21st century.
So there you have it, our Black History Month recommended reading list… but if you have any other recommendations to add to it, drop us a commment below.